Donate
Now Is the time to build the long awaited memorial to remember the 2000 men whose lives were unjustly interrupted.
The names of Japanese, German, and Italian aliens, and Japanese taken from Latin America , and others will be engraved on a granite Honor Wall.
Share With Us
If you enjoyed the exhibit, please let us know. Other comments are appreciated too because continuous improvement must drive our projects. We will continue to seek the names of detainees and their stories.
Join Us On Facebook
Follow us on Facebook to stay current with all our current efforts.
Recent Updates
The Tuna Canyon Detention Station Coalition (TCDSC) biographies were written by the board, community and family members. We have gained a greater insight to their personal experiences. Sigrid Toye said, "I am now finally able to share my feelings with the universe."

The mission of the TCDSC is to tell the stories of the Japanese, German, and Italian immigrants and others taken from Latin America. We will continue to search for such stores so please contact us so it is preserved for future generations and researchers.

Read the Biographies
Featured Story
Introducing how to navigate the National Archives by Professor Russell Endo, descendent of Heigoro Endo. The presentation was made at the 2020 Japanese American Confinement Sites Consortium.
Current Events and Latest News
We thank the Goleta and San Ynez Library for the opportunity to discuss Tuna Canyon. Dr. Russell Endo presents Tuna Canyon with connections to the
The following is a resolution by the members of the Tuna Canyon Detention Station Coalition to state our outrage at the violence done in the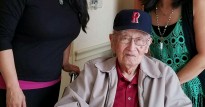 We extend our deepest sympathy to the family of Cedrick Shimo whose father was held at Tuna Canyon. He revealed the story during his Legacy
View All Current Events
Upcoming Events