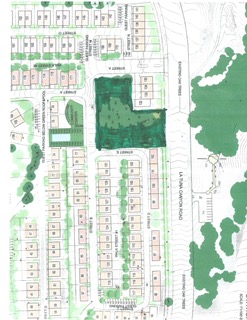 In summer 2013, the City Planner, Ken Bernstein chaired a Working Group consisting of members from the Little Landers Historical Society, Sunland Tujunga Neighborhood Council, VOICE, Little Tokyo leaders, and San Fernando Valley Japanese American Community Center and landowner, Snowball West. It called for the immediate memorialization of one acre under the oak grove where Japanese, German, Italian immigrants, and Japanese taken from eighteen Latin American countries were detained during World War II. Snowball West, further, sued the City of Los Angeles for designating Tuna Canyon as a Los Angeles Historical Cultural Monument but lost.
Snowball West investments architect, Janek Dombrowa, introduced the map below in August 2017 to the Tuna Canyon Detention Station Coalition leaders where the darkest area is set aside for the memorial. Nancy Oda says that the grove of trees that are situated near old clubhouse should be part of a regional park. Further, the picture ignores the agreement that the memorial will be accessible to the public and the disabled. The designated Oak trees are currently not open to the public based on this rendering. It is part of a gated community.
Snowball West Investment representatives recommended a C2 parcel that is for sale for the memorial for this tragic episode in American History. Since it is across the street, it is not located where the detainees were held, dusty and noisy because of the nearby 210 freeway.freeway.
The Tuna Canyon Detention Station Coalition is firm in maintaining the integrity of its history. The development may have paid into a fund to avoid its responsibility to provide parkland for the residents.
The traveling exhibit called, "Only the Oaks Remains," has completed a six city tour and
will go to the Oregon Nikkei Legacy Center in October 2017 then to the Santa Barbara History Museum in 2018. It's goal is to come home to Tujunga and set up an educational museum. The Tuna Canyon Detention Station Coalition is a nonprofit organization that meets on the first Thursday each month at the San Fernando Valley Japanese American Community Center at 11;00. Donations may be made online.